Hedgehogs go where they want, not where we want
What do ZSL Hedgehogs tell us about our perception of nature – are we bound by a romantic view of what and where nature should be?
It would appear hedgehogs are ungrateful beasts. Regent's Park is a vast wilderness that must just be the perfect hedgehog home range. The urchins, however, are not as keen on the park as they are of a rather downtrodden car park. Not only is the car parking lot ugly compared to the park, it has been earmarked to act as a lorry park for the HS2 project. The little urchins, says David Fields of ZSL, need the car park to be protected.
'It may seem strange that we are seeking protection for a car park, but this is an example of the increasingly desperate reality for urban wildlife, forced by human pressure to seek sanctuary in the unlikeliest places. It is our duty to protect the remaining refuges of these creatures.'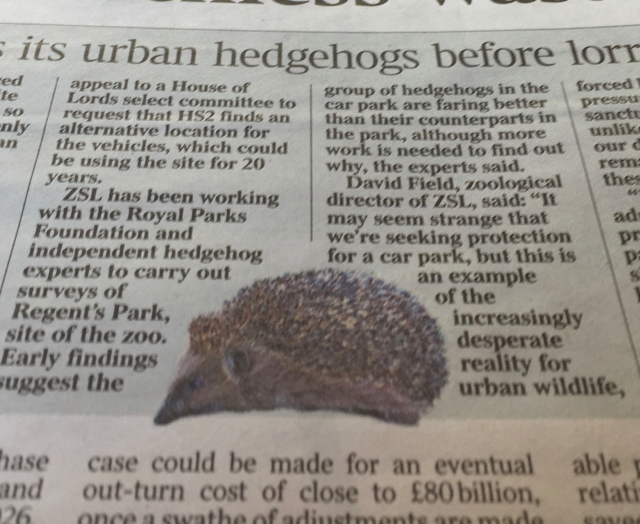 Good for the Director of ZSL. Now I am sure that Oliver Colvile MP will be standing shoulder to shoulder with Mr. Fields against the Department of transport. Let's hope they get the protection the need and the tiggy-winkles will rule OK in down-trodden car park for the next 20 years.
Urban Nature gets where the experts least expect it
All over cities nature will find sanctuary where what it needs can be found. I once closed down the construction of a tower in the docklands. Kingfisher's had nested for years in a pile of builders rubble. When the diggers moved in to start the foundations of a tower, I alerted the authorities. In dues course an expert arrived from the New Forest. He was in an alien landscape. The crash of coffer dams being constructed. the noise of planes roaring overhead from City airport. Cranes and diggers you could see he felt he had arrived in the maddening crowd. There was no way a kingfisher would be living there, he told me with disdain. Thereupon the kingfisher turned up and appropriately sat on scaffold tube!
I remember Battersea Power station. It had more protected wildlife on it than any London Park. Peregrines, Black redstarts bats and lizards all flourished there. 'Why don't they go hang out in Battersea park?' The developer said to me.
Most people, nature lovers, as well look with disdain on these places. They are not pristine wildernesses as the romantics envisioned. Nature goes where nature can find what it wants. Kingfishers at Canary Wharf had more than ample fish and a hole to nest in. The wildlife on Battersea Power Station was there because we had abandoned the place.
Yet none of these places would have been considered pristine wildernesses.